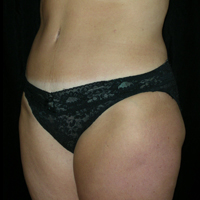 Many people try to exercise and control their weight in order to achieve a flat abdomen. Some individuals can seemingly do a hundred sit ups a day and not achieve their goal. When a person has done everything they know to do with no success, they contact a plastic surgeon for an abdominoplasty. An abdominoplasty, commonly known as a tummy tuck, is a procedure through which excess skin and fat is removed from the abdomen. Most of the time, the removal of the extra skin and fat will result in a much smoother and firmer abdominal profile. This surgical procedure is a highly individualized procedure which must be a choice made by the person and not just to try and please someone else.
Who should get an abdominoplasty?
A tummy tuck is not a substitute for following a weight loss program or an exercise regimen. It is really only suggested by cosmetic surgeons for those who are already healthy and who are maintaining at least a stable weight. An individual must have realistic expectations before entering into an agreement with the cosmetic surgeon. Even though the end result of an abdominoplasty is permanent technically, it will still take work to maintain the success that is achieved. Individuals who are planning to enter a weight loss program to lose a substantial amount of weight, or a woman who is considering getting pregnant in the future are advised to postpone the surgical procedure until a later time.